DLC002_EN 4Current V1.1.1
Product Introduction:
2.4G Wireless Self-inspection Sync Dimming Constant Current Driver (CCT)
Product Details
Features
1) Isolated power supply
2) Adopt PWM technology
3) High efficiency/High PF/ flicker-free
4) Protected from miswire, over loading, over voltage, short circuit.
5) High quality smooth dimming(1024 grades)
6) With Power off memory function
7) 2.4GHz wireless control,Air Self-inspection Sync control
8) With TUYA-2.4G converter module, realized phone, PAD, WIFI smart control
9) Applicable lamps:LED like LED panel, LED ceiling lamps, LED down light and others constant current lights
10) Applicable place:Home, Shop, Hotel, Office and so on household/commercial indoor lighting
11) Certification:CE/R&TTE/LVD/ROHS
12) Warranty 3 years

Driver Technical Parameters
Electrical Performance Test are all in 25℃±10% temperature environment,230VAC/50HZ input
Factor
Index
32W
Input
Voltage Range
90-264VAC
Frequency Range
47-63Hz
输入 Rate Current
0.2A(full load)
Surge Current
<50A
Standby Power
≤0.9W
Overall Efficiency
85%(full load)
Power Factor(PF)
0.93(full load)
THD
17%
Port
Two Wire input(L/N)
Output
unloaded Voltage
53V
Voltage Range
18V-42VDC
String Number
6-12 string
Rate Current
500mA-800mA
MAX Power
32W
Current accuracy
±5%
PWM Signal Output Frequency
3KHz
Dimming Grade
1024
Dimming Range
3-100%
Video effect
Free-flicker
Reliability
Power Supply
Isolated Power Supply
Working Temperature Ta
-20~45℃
Case Max Working Temperature Tc
85℃
(working temperature 45℃,Max power)
Storage Temperature
-40~85℃
(relative hnmidity 20%‐90% non-condensing)
Life
45000 hours (25℃±10% temperature environment,230VAC input,100% LOAD)
Warranty
3 years
Safety and EMC
Certification CE-LVD
EN61347-1、EN61347-2-13
Electromagnetic Compatibility CE-EMC
EMI(EN55022、EN61000-3-3)
EMS(EN55024、EN61000-4-2,3,4,5,6,11)
Withstand voltage
I/P-O-P:3.75KVDC
Insulation Resistance
≥100MΩ(in 25℃±10℃ temperature environment,lower than 70% relative hnmidity,Input to output,input to ground,output to ground,apply 500VDC voltage respectively,Time is 60s)
Protection
IP
IP40
Over Voltage Protection
Yes(lower than 53V)
Short Circuit Protection
Yes (When short circuit enter intermittent mode, restore output automatically after short circuit remove)
Other
Wireless Control
2.4GHz
Remote Control Distance
30m
Memory Function
Yes
Product G.W.
165g
Product Size
L163*W46*H25mm
Packing Size
L167*W50*H26mm
3KV Surge Testing
| | | | |
| --- | --- | --- | --- |
| Angel | Positive or Negative | Times | Pass/Fail |
| 0 | + | 5 | Pass |
| 0 | - | 5 | Pass |
| 90 | + | 5 | Pass |
| 90 | - | 5 | Pass |
| 180 | + | 5 | Pass |
| 180 | - | 5 | Pass |
| 270 | + | 5 | Pass |
| 270 | - | 5 | Pass |
Regular Model Driver Technical Parameters
1)regular Model Technical Parameters
| | | | | |
| --- | --- | --- | --- | --- |
| Model | Rate Power | Rate Current/CH | Voltage Range | Series LED |
| DLC002-32-080 | 34W | 800mA | 18-42V DC | 6~12 LEDs |
| DLC002-30-070 | 30W | 700mA | 18-42V DC | 6~12 LEDs |
| DLC002-25-060 | 25W | 600mA | 18-42V DC | 6~12 LEDs |
| DLC002-21-050 | 21W | 500mA | 18-42V DC | 6~12 LEDs |
Remark:other technical parameter please contact us.
Port Instruction


DIP switch & current
Product Compatibility(Applicable for remote)
| | | |
| --- | --- | --- |
| Item:HX-RFBT-2.4G(1 zone) | Item:HX-RFBT10-2.4G (4 zone) | Item:HX-RFBT12-2.4G(1 zone) |
| | | |
| Item: HX-RFBT15(1 zone) | Item: HX-HWP86-CCT-4S(4 zone) | Item: HX-HWP86-XSP(4 zone) |
| | | |
| Item: HX-HWP86-SR(PIR/Lux-sensor) | Item: HX-WP86-AP (RF signal repeater) | Item: HX-TUYA-2.4G-CCT |
| | | |
Typical Applications
1) Compatible with a variety of models of remote control at the same time, could be matched according to project situation
2)
Wireless-synchronization function
Receivers which with wireless-synchronization functions will transmit the control signals from the remote control and self-inspection the work statues for each other, so multiple receivers in same zone will wireless-sync-work completely, not only static mode but also dynamic mode, to achieve wired-like operation experience. The distance up to 20 meters between remote control to receiver, and up to 10 meters between 2 receivers. RF wireless signal repeater is suggested in over range distance or when the workable distance is shorter by the materials of space, the effective range up to 30 meters.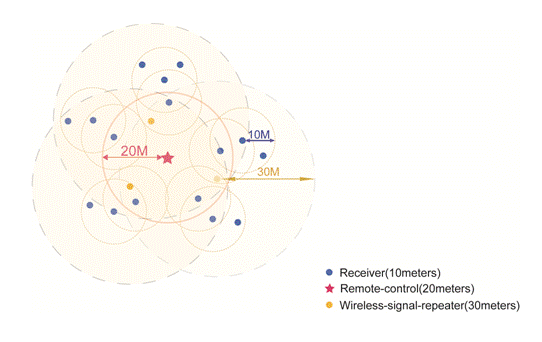 3) 1 zone remote typical application, multi drivers could be wireless-sync controlled by the same one remote control.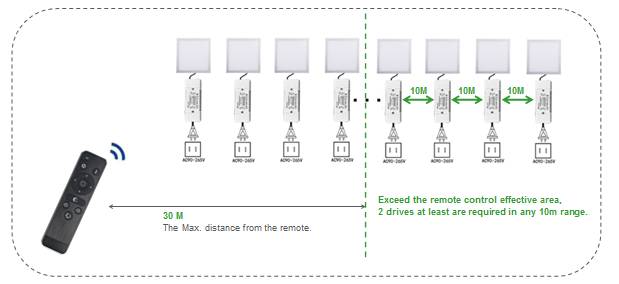 4) 4 zones remote typical application, multi drivers could be controlled in each zone. 4 zone could be respectively and allover controlled
5) With TUYA-2.4G converter module, it can realize mobile phone intelligent lighting system control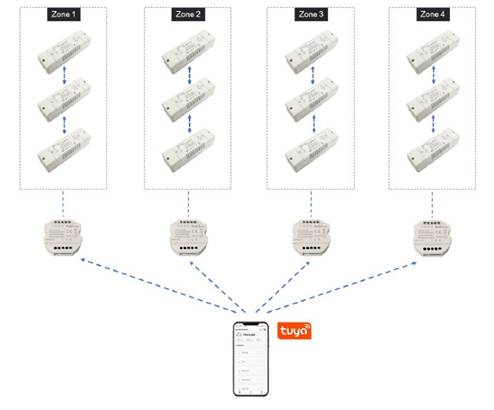 Tips:
1) If the lamp turned off by remote control, it also can restart the lamp directly by the AC power switch(No-flicker driver need to restart after turn off the power switch and discharge for 5s.
2) If the lamp is light up without any operation in 167 hours, the driver will turn off the lamp automatically. It will recount the time if there is any operation from power switch or remote control.
3) Memory function, each time power-on reserve the mode which stop in the last power-down.
4) For operations and precautions related to lighting system settings, please refer to the operating instructions of the relevant remote control.