Product Details
Product Feature
Isolated power supply
Protected from over voltage, short circuit
Output 0-10V signal
Memory function, each time power-on reserve the mode which stop in the last power-down.
2.4GHz wireless control,Air Self-inspection Sync control
Compatible with Freelighting Control system,realized phone WIFI smart control
Push dimming function compatible
Applicable place:Home, Shop, Hotel, Office and so on household/commercial indoor lighting
3 years warranty.
Driver Technical Parameters
Electrical Performance Test are all in 25℃±10% temperature environment,230VAC/50HZ input
Factor
Index
HX-HV-10V
Input
Voltage Range
100-240VAC
Frequency Range
47-63Hz
输入 Rate Current
0.027A
Surge Current
≤50A
Standby Power
≤1.1W
Port
2 wire input (L/N)
Output
Output Voltage
0V-10VDC
Output Current
50MA
Current accuracy
±3%
Reliability
Power Supply
Isolated Power Supply
Working Temperature Ta
-20~45℃
Case Max Working Temperature Tc
85℃ (working temperature 45℃,Max power)
Storage Temperature

-40~85℃
(relative hnmidity 20%‐90% non-condensing)
Life
50000 hours( 25℃±10% temperature environment,230VAC input,100%LOAD,case temperature 72℃)
Warranty
3 years
Safety and EMC
Certification CE-LVD
EN61347-1、EN61347-2-13
Electromagnetic Compatibility CE-EMC
EMI(EN55022、EN61000-3-3)
EMS(EN55024、EN61000-4-2,3,4,5,6,11)
Withstand voltage
I/P-O-P:3.75KVAC
Insulation Resistance
≥100MΩ(in 25℃±10℃ temperature environment,lower than 70% relative hnmidity,Input to output,input to ground,output to ground,apply 500VDC voltage respectively,Time is 60s)
Protection
IP
IP40
Over Voltage Protection
Yes
Short Circuit Protection
Yes
Other
Wireless Control
2.4GHz
Push dimming way
PUSH port /V-
Remote Control Distance
30m
Memory Function
Yes
Product G.W.
70g
Product Size
L90*W45*H27mm
Packing Size
L96*W48*H33mm
Port Instruction

Product Compatibility(Applicable for remote)
Model:HX-RFBT-2.4G
(Single zone)
Model:HX-RFBK-2.4G
(Multi-zone)
Model: HX-HWP86-DIM-2.4G-4B
(Multi-zone)
Model:HMW-WIFI-V02 (WIFI BOX)
(Coollight system)
Typical Application
1) Compatible with a variety of models of remote control at the same time, could be matched according to project situation
2)Air Self-inspection Sync control not only make the product more advantaged than similar product in wireless sync function, but also make 1 remote controller out of limitation of remote control distance, theoretically achieve controlling numerous drivers wireless connection sync control function.
3)4 zones remote typical application, multi drivers could be controlled in each zone. 4 zones could be respectively and allover controlled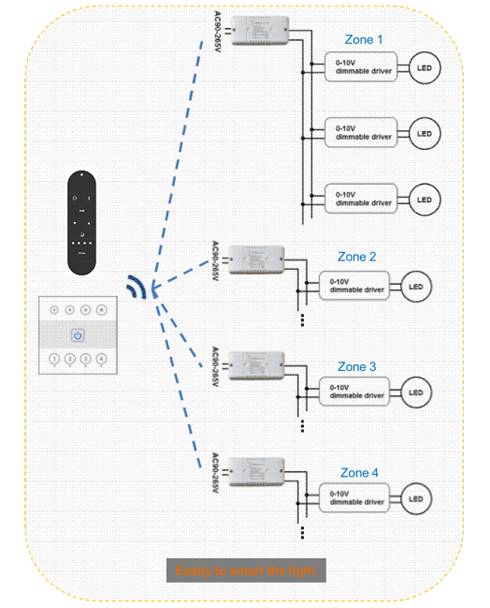 4)This wireless driver also could be match with our Wifi Box to achieve phone smart control, Max achieve 100 zones to control separately.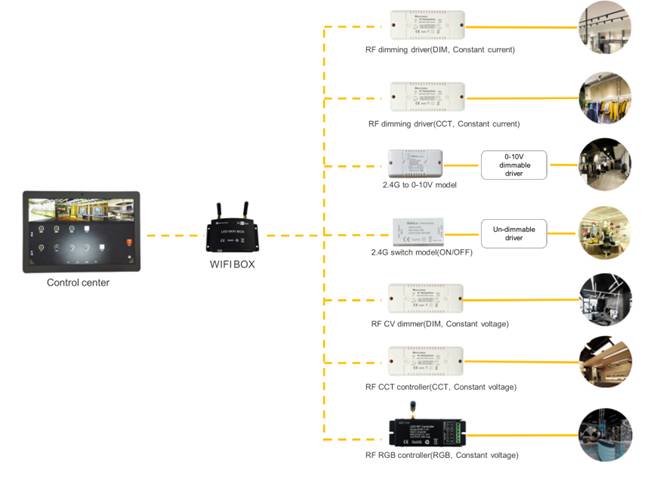 5)0-10V dimmer can adjust output voltage through PUSH port;
Operation: PUSH port connect with V-pin and the output voltage varies from 0 to 10V. When the output is required, make the PUSH port and V-port disconnect, and the output voltage will store the current voltage value.

Tips:
1)If the lamp turned off by remote control, it also can restart the lamp directly by the AC power switch
2)If the dimmer is light up without any operation in 167 hours, the dimmer will turn off automatically and output as 0V. It will recount the time if there is any operation from power switch or remote control.
3)Each drimmer can save unique RF codes(for remote control) and unique wifi code(for wifi control). You can copy the RF code between remotes when more than one remote are needed. Please get the operation instruction from the remotes specification.
4)Memory function, each time power-on reserve the mode which stop in the last power-down.