HX-LWP86-RGBW
Product Introduction:
Led wall panel RGBW controller It adopts the most advanced PWM (Pulse Width Modulation) digital control technology, It is constant voltage led full-touch wall panel RGBW controller with RF touch remote, specially designed for RGBW Led lighting. For instance, Led module, flexible Led strip, etc. To select the desired light colors or modes, not only by the wall panel controller, but also by the wireless remote. It has many advantages such as beautiful appearance , easily to install, and simply to
Product Details
Features:
Designed for RGBW constant voltage LED lights, Working voltage DC12-24V.
Two channels output, Max. load current: 4CH*4A; Max. load power: 192W/12V; 384W/24V.
The wall panel adopts the capacitive touch-sensitive design, unique appearance and easy-operation.
RF frequency:2.4GHz, distance up to 20 meters, remote control is optional, compatible with SWC-RGB-2.4G.
Memory function, each time power-on reserve the mode which stop in the last power-down.
Amplifier is available to achieve more LEDs sync-control.
Structure/dimension/installation of the wall panel according to the 86-type European standards.
Warranty of this product is 3 years.
Technical Parameters:
The wall panel controller:
| | | | |
| --- | --- | --- | --- |
| Working temperature | -20-60℃ | Working voltage | DC 12~24V |
| Static power consumption | <1W | Connecting mode | Common anode |
| Gray scale | 256 levels | RF frequency | 2.4GHz |
| N.W | 140g | G.W | 160g |
| External dimension | L86*W86*H34mm | Packing dimension | W89*L89*H40mm |
| Output | 4 channels | Max. Output current | 4A*4CH |
| PWM frequency | 700Hz | Max. Output power | 12V:192W, 24V:384W |
Dimension: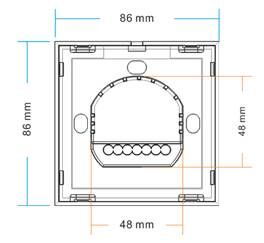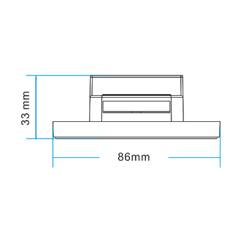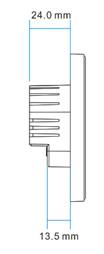 Interface Specification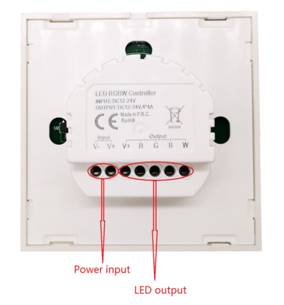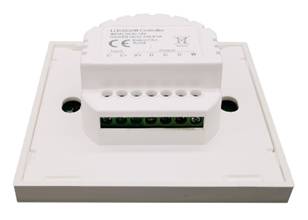 Wall-panel Installation instruction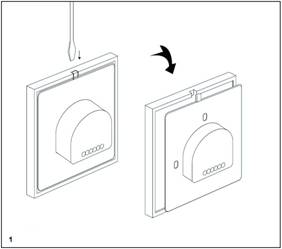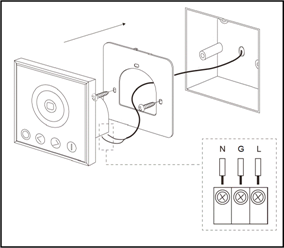 Direction for use
Connect the load wire at first, followed by the power wire; Please ensure short circuit can not occur between wires before turning on the power;
Adopts RF full touch wall-panel remote control, with one color ring and 5 function buttons.
The signal light flash-- represents the signal has been sent well;
The function of buttons are shown as below: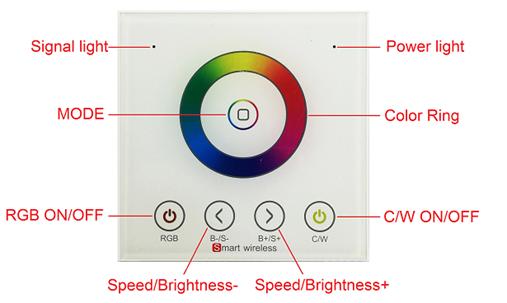 The function of each button as below:
| | | |
| --- | --- | --- |
| Name of key | Instruction | Remarks |
| RGB ON/OFF | RGB:ON or OFF in anytime | RGB ON/OFF |
| W ON/OFF | White:ON or OFF in anytime | W ON/OFF |
| Mode | The mode will move to next, when touch the key each time | 10 modes in total. |
| Speed/Brightness + | The Speed/Brightness will +1, when touch the key each time | Speed for dynamic modes, Brightness for static modes. |
| Speed/Brightness - | The Speed/Brightness will -1, when touch the key each time | Speed for dynamic modes, Brightness for static modes. |
| Color Ring | Touch any color which is wanted | |
10 modes in total as below:
No
Patterns
Remarks
1
Static white
Brightness is adjustable
2
White flash
Speed is adjustable, brightness is unadjustable
3
White breath
4
Three-color jump changing
5
Seven-color jump changing
6
Three-color gradient changing
7
Seven-color gradient changing
8
R/G cross fade
9
R/B cross fade
10
G/B cross fade
Typical Applications
Application circuit:

Product information for placing order
| | |
| --- | --- |
| Product name | Item number |
| Wall panel RGBW controller (color ring) | HX-LWP86-RGBW |