Product Details
Features:
Designed for RGB constant voltage LED lights, Working voltage DC12-24V.
Two channels output, Max. load current: 3CH*4A; Max. load power: 144W/12V; 288W/24V.
The wall panel adopts the capacitive touch-sensitive design, unique appearance and easy-operation.
RF frequency:2.4GHz, distance up to 20 meters.
Memory function, each time power-on reserve the mode which stop in the last power-down.
Amplifier is available to achieve more LEDs sync-control.
Structure/dimension/installation of the wall panel according to the 86-type European standards.
Technical Parameters:
The wall panel controller:
| | | | |
| --- | --- | --- | --- |
| Working temperature | -20-60℃ | Working voltage | DC 12~24V |
| Static power consumption | <1W | Connecting mode | Common anode |
| Gray scale | 256 levels | RF frequency | 2.4GHz |
| N.W | 140g | G.W | 160g |
| External dimension | L86*W86*H34mm | Packing dimension | L150*W90*H60mm |
| Output | 3 channels | Max. Output current | 4A*3CH |
| PWM frequency | 700Hz | Max. Output power | 12V:144W, 24V:288W |
Dimension: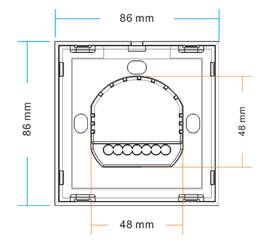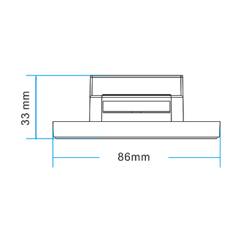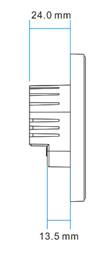 Interface Specification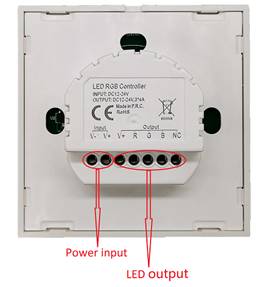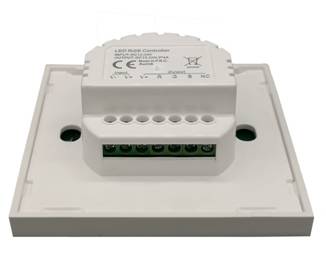 Wall-panel Installation instruction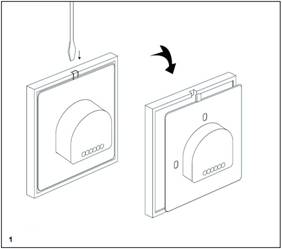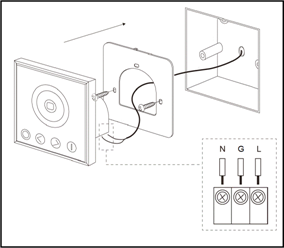 Direction for use
Connect the load wire at first, followed by the power wire; Please ensure short circuit can not occur between wires before turning on the power;
Adopts RF full touch wall-panel remote control, with one color ring and 5 function buttons.
The signal light flash-- represents the signal has been sent well;
The function of buttons are shown as below: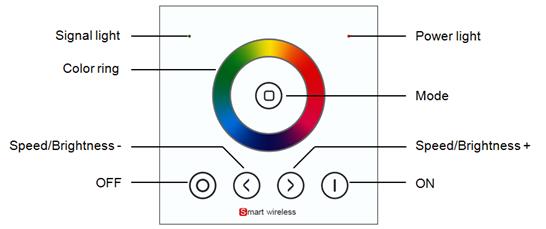 The function of each button as below:
| | | |
| --- | --- | --- |
| Name of key | Instruction | Remarks |
| ON/OFF | ON or OFF in any time | |
| Mode | The mode will move to next, when touch the key each time | 9 modes in total. |
| Speed/Brightness + | The Speed/Brightness will +1, when touch the key each time | Speed for dynamic modes, Brightness for static modes. |
| Speed/Brightness - | The Speed/Brightness will -1, when touch the key each time | Speed for dynamic modes, Brightness for static modes. |
| Color Ring | Touch any color which is wanted | |
10 modes in total as below:
No
Patterns
Remarks
1
Static white
Brightness is adjustable
2
White flash
Speed is adjustable, brightness is unadjustable
3
White breath
4
Three-color jump changing
5
Seven-color jump changing
6
Three-color gradient changing
7
Seven-color gradient changing
8
R/G cross fade
9
R/B cross fade
10
G/B cross fade
Typical Applications
Application circuit: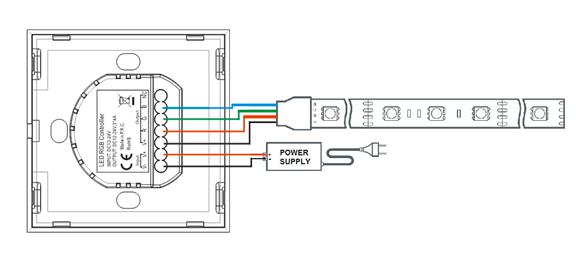 Product information for placing order
| | |
| --- | --- |
| Product name | Item number |
| Wall panel RGB controller (color ring) | HX-LWP86-RGB |